Our Pastor | #wearethetemple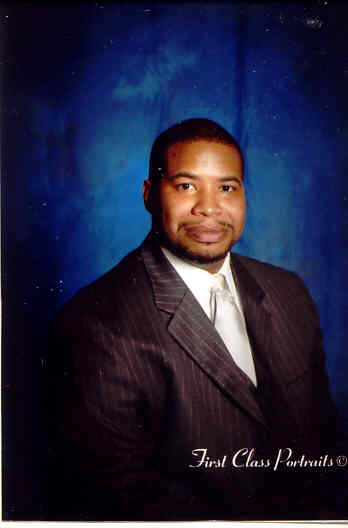 Pastor Trevor D. Allen, Sr.
Trevor Allen was born and reared in North Louisiana. He is a product of Benton High School, Class of 1990. He is the son of a Baptist preacher. As a child, he was baptized by the late Rev. A.A. Green at Calvary Baptist Church in Benton, LA.
One of the first milestones achieved in his adult life was a stint in the U.S. Navy. His tour in the Navy led him to several major cities in our country including Chicago, IL, Washington, D.C. and New Orleans, LA. During his time in Washington, D.C., he accepted his calling into the ministry and preached his initial sermon at Unity Baptist Church in Capital Heights, MD.
At Nineveh B.C. in Metairie, LA, Trevor served as the first Chairman of the Minister's Alliance. In this capacity, he managed the associate ministers of the church, implemented an Hour of Power Mid-week Worship service, and activated the church's scholarship program. In the fall of 1999, the Peaceful Rest Baptist Church of Shreveport, LA appointed him as the Associate Pastor for Children and Youth. During his tenure there, the ministry grew from 70 plus to over 200 children and youth. A myriad of programs and ministries were put in place during his administration including but not limited to: an after-school tutorial program, summer career camp, College tour, Step team, Heavenly Host, amongst others.
February of 2005, Trevor accepted the position of Associate Pastor with managerial duties over the Singles, Bus, and Outreach ministries at Galilee Missionary Baptist Church in Shreveport, LA. He served under the leadership of the late Dr. E. Edward Jones, President Emeritus of The National Baptist Convention of America. The Lord blessed his work there with the beginning of a Singles Sunday School class, Singles Study Group and GROW, an outreach program designed to reach unsaved individuals in inner-city Shreveport & Vicinity.
In February of 2007, The Lord opened the door of leadership at Mount Bethel #2 B.C. of Keithville. Through the aid of the Holy Spirit, the following areas of growth were experienced: constructed a multi-purpose facility, increase in membership, Bible Study, Sunday School and worship attendance, the institution of several ministries that met the needs of the parishioners and surrounding communities, Children and youth summer camp and summer feeding program, established a LEAP tutorial program for 8th graders, increased mission-oriented activities (e.g., Operation Christmas Child, mission trips), financial increase of 62%, increased building fund by $250,000, amongst a few. In February of 2017 after over a year of prayer, Pastor Allen resigned as pastor after a 10-year tenure there.
After a period of prayer and discussion, a group led by Trevor Allen decided to launch a ministry together with the goal of fulfilling God's will for the church through this body of believers. With that purpose in mind, this ministry was named Ecclesia, the Greek word for called-out assembly. The first worship service was held on May 21, 2017 at 6p.m. During the first few weeks of existence, a worship facility was secured at 4134 Greenwood Road and they began worshipping there on the 1st Sunday in June, 2017. On the eve of the church's first anniversary, members of The Baptist Temple Church of Shreveport confirmed God's call by voting Pastor Allen in as pastor on April 28, 2018. Shortly after, the members of Ecclesia met and decided to follow Pastor Allen, join Baptist Temple but maintain Ecclesia as an outreach ministry able to continue great works including church planting.
Currently, he holds a Bachelor's Degree in Christian Ministry from East Texas Baptist University (ETBU) and a Certificate in Theology from Morehouse School of Religion. During his matriculation at ETBU, Trevor received recognition from The Nation's Dean List by way of nomination from an ETBU Professor. He has pursued post-baccalaureate degree work at Baptist Missionary Association Theological Seminary in Jacksonville, Texas. He is the husband of the former Cleopatra Richard and father of Marie, Christian, Trevor, Jr. and Warren and grandfather of Karlee Renee.'
His speaking engagements and accomplishments include:
2005 Shreveport City-Wide Youth Rally Speaker
Coordinator for the Mount Hermon Baptist Association 2004&2006 Youth Conference
Presenter for 2002 Pastor's/Minister's Conference of the BM&E State Convention
Facilitator for National Baptist Convention of America Youth Convention
Former BM&E State Convention Youth Coordinator
Speaker for The Young Women's Auxiliary of The National Baptist Convention of America
Late-night Worship Speaker for National Baptist Convention Mid-Winter Board
Founder and Chairman of the Board, Visionaries for Change Foundation
Chapel Speaker at Wiley College, Southern University-Shreveport and East Texas Baptist University
Evangelist , guest speaker or lecturer in various locations such as Pasadena, CA, Los Angeles, CA, Atlanta, GA, Knoxville, TN, Capital Heights, MD, New Orleans, LA, Ennis, TX , Houston, TX, Dallas, TX and an assortment of locations in Shreveport and throughout the state of Louisiana..